Sustainable Energy Engineering Doctoral Program (SEED)
Applicable to PhD students from Kathmandu University, TERI School of Advanced Studies and Universidad Mayor de San Simón.
Boost your scientific skills and evidence-based knowledge through international collaborations in Sustainability, Circular Economy, Gender, Disasters and Climate Risk.

Application period open January 20-February 28 for intake 2023!
(See application info further down)
Objective
The main objective of this graduate doctoral program - "Doctoral School in Sustainable Energy Engineering (SEED)" - is to:
develop capacities of PhD researchers for conducting research on complex developmental challenges and solving them with holistic and innovative system solutions;
enhance their competencies to work in multidisciplinary research; and
to address the complex developmental societal challenges in different development contexts.
More specifically, the objectives of the doctoral school in Sustainable Energy Engineering are to provide:
A holistic view on energy supply, use and circular economy in a systems perspective.
Competency to critically evaluate gender issues and inequality in relation to energy use and energy generation.
Knowledge to understand and evaluate small-scale energy generation technologies and services based on locally available resources in a concept of poly-generation.
A critical understanding of the sociotechnical transition process and diffusion of sustainable innovations.
The Doctoral school in Sustainable Energy Engineering (SEED) is a collaboration between six universities in four different countries: Royal Institute of Technology (KTH), Linnaeus University (LNU) and Lund University (LU), all in Sweden, Kathmandu University (KU) in Nepal, TERI School of Advanced Studies (TERI SAS), India and Universidad Mayor de San Simón (UMSS) in Bolivia.
PhD school highlights:
Research mobility in Sweden (course work, research/publication work)
A 2-days workshop on Multidisciplinary Developmental Research
A 5-days course on Gender, Disaster and Climate Risk (3 ECTS) - offered by LTH
Four PhD Courses are the core of the mobility program

Sustainability Assessment and Policy Evaluation (6 ECTS*)-offered by LNU
Diffusion of Innovations and Socio-technical transition (6 ECTS)-offered by LNU
Circular Economy, Energy systems and Poly-generation (ECTS) -offered by KTH Nexus and climate agenda in energy systems (6 ECTS) -offered by KTH

Co-supervision by a cross-country supervision team
*) 1.5 ECTS corresponds to 1 40-hour week of full time studies (lectures, seminars, self-studies)
SEED School program specifics
The SEED will be executed with yearly intakes, three intakes within the SEED period of four (4) years. Every intake lasts for eighteen (18) months. The program will start with a mobility period in Sweden for four (4) months and the remaining fourteen (14) months will be spent at the home university. The mobility period, which is supported by scholarships, starts at LTH with two mandatory educational activities:
SEED kick-off/ Multidisciplinary developmental research Workshop This is a kick off meeting of the SEED school that will start with a 2-days workshop on Multidisciplinary developmental research. The workshop takes place at Lund University. This workshop logistic is coordinated by LU and Workshop activities will be organized jointly by LNU/KTH. This kick off session provides the detail information about the SEED Programme and other logistics. This is an opportunity to meet all SEED participants of each intake and mentors from Swedish Universities at one place. The workshop will be focused on understanding the multidisciplinary research, along with identifying/studying opportunities and challenges associated with multidisciplinary research.
A 5-days PhD summer course on Gender, Disaster and Climate Risk (3 ECTS). This course is given at Lund University and it will help to include gender perspective in the multidisciplinary research at a broader level. The course specifically discusses gender inclusive approach in Disaster Risk Reduction and Climate Change Adaptation by offering pedagogical training to actors such as researchers and practitioners. It aims to bring together researchers and practitioners to facilitate dialogue, and co-create knowledge and solutions, in developing gender-inclusive designs in response, recovery, and preparedness.
Mobility at either KTH or LNU
Following these courses, the students will continue the mobility period at either LNU or KTH with "on the job training" depending on their research topic and specialization. During this period they will carry out research works in close collaboration with researchers at LNU and KTH under the supervision of the assigned mentors within the Thematic Multidisciplinary Areas within the SEED.
Innovation diffusion/Socio-technical transition (Lead by LNU)
Sustainable Energy Access (Lead by LNU)
Nexus, Energy Poverty and Gender (Lead by LNU)
Resource efficiency Poly-generation (Lead by KTH)
Energy systems and circular economy (Lead by KTH)
Renewable energy technology (Lead by KTH)
PhD courses at LNU - Linnéuniversitetet
1. Sustainability Assessment and Policy Evaluation Course Credit: (6 ECTS)
Web page: Sustainability Assessment and Policy Evaluation
This course intends to augment the PhD students'/researchers' (i) understanding of the sustainability evaluation and its contributions to policy-making; (ii) designing policy relevant Indicators for Sustainable Development; (iii) some sustainability assessment criteria and processes and tools; (iv) knowledge on research and policy interface; (v) evaluate/access development policy from sustainability perspective.
The course will be designed keeping focus on Energy sector and exploring its synergy, and trade off with other SDGs. The course will also help the students/researchers to communicate their research contribution in relation to sustainable development goals. The course will be beneficial but not limited to students working on the developmental research.
2. Diffusion of Innovations and Socio-technical transition (6 ECTS)
Web page: Diffusion of innovations and sociotechnical transition
This course intends to impart knowledge on diffusion of innovations and the sociotechnical transition process, and intervention strategies to facilitate diffusion of innovations. On completion of the course, the students should be able to: (i) Explain the systemic aspect of innovation and evaluate the sociotechnical change process; (ii) Analyze the decision-making process of the adopters of innovations, identify different categories of adopters, and identify various attributes of an innovation that can affect its diffusion; (iii) Evaluate the role of entrepreneurship in innovation; (iv) Articulate the intervention strategies to facilitate diffusion of innovations.
PhD courses at KTH – Kungliga Tekniska Högskolan
3. Circular Economy, Energy Systems, and Polygeneration (6 ECTS) In this PhD course, the students will get theoretical and practical knowledge on the following topics: Poly-generation for resource efficiency and climate change mitigation; Implications of circular transitions in specific sectors such as waste management, energy and energy-intensive industries; Tools and methodologies for the assessment of circularity (LCA and material flow analysis); Importance of business models' innovation to value creation in a circular economy. The individual learning outcome (ILOs) are: (a) explain what is circular economy, in theory and practice, in energy systems, (b) describe systems for simultaneous generation of several energy services that are run by a combination of different energy sources, (c) able to use tools and methodologies relevant for the assessment of circularity performance and resource recovery, (d) apply circularity concept in waste management sector, e.g. waste-to-energy (WtE) and resource-intensive industries, e.g. cement, iron and steel, (e) demonstrate the knowledge of circularity in new innovative business creation, and (f) describe how small-scale polygeneration systems can operate connected or not connected to an electric grid, where the grid can be a classical national grid or a microgrid with distributed power generation.
4. Nexus and Climate Agenda in Energy Systems (6 ECTS).
This PhD course includes energy systems analysis (reference energy systems and scenario analysis); role of energy policies in systems transformation; Basics of nexus assessment (links between climate, water, land use and energy); energy systems and climate agenda the role of national and international actors in setting development priorities ( climate interactive exercise /world climate simulation ). ILOs are: (a) describe basic energy systems and scenario analysis, (b) explain the role of energy policies for a low carbon and climate resilient future in development contexts, (c) identify the links between climate, water, land use and energy systems, and (d) explain and evaluate the perspectives on global climate change, including the role of national and international actors in setting development priorities.
Organization of SEED - Sustainable Energy Engineering Doctoral program
The organization of SEED is illustrated in figure 1. It is based on already ongoing partnerships among the partners. The Executive Board (EB) is responsible for day-to-day management and operation of the school and the network. The local SEED coordinators and coordinators from the various committees looking after specific aspects of the SEED will be in this EB.
To account for the continued quality of the program there is an Advisory Board with two reference groups. The advisory Board for the SEED will comprise of (i) representatives from prominent subject experts in developmental research working on sustainable energy. (ii) high-educational administrative officials (Departmental heads, Rectors/dean) from various partnering universities.
Figure 2 illustrates how the key activities of SEED are organized.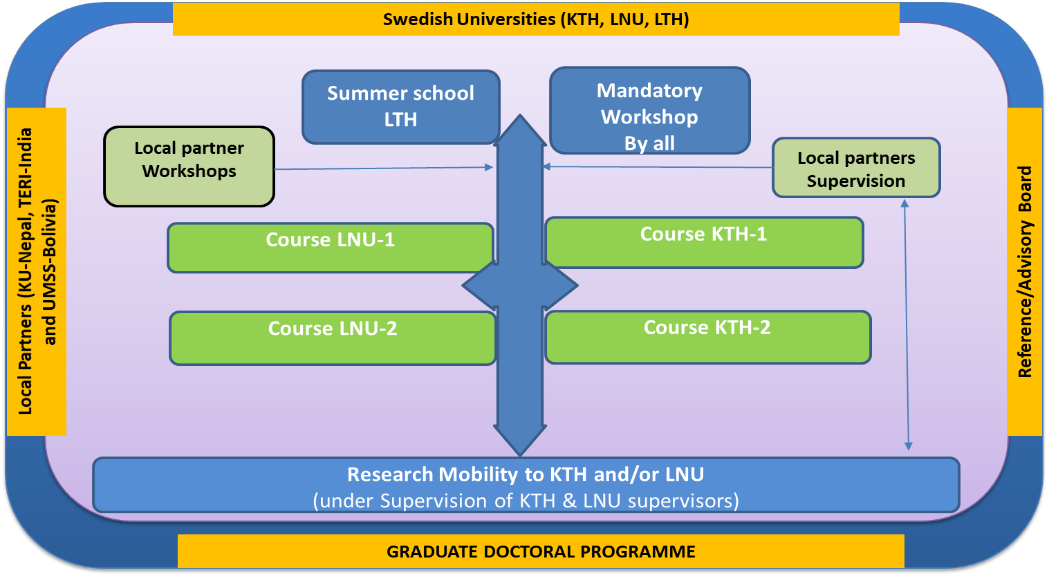 Mobility and logistics during the mobility period*
The initial kick-off workshop and the course on Gender, Disaster and Climate Risk takes place in Lund during the first 1,5 weeks. Thereafter, students will move to Stockholm or Växjö (depending on the research topic) for the remaining mobility period.
The amount of scholarship per month (during the mobility) is SEK 15,000 and is made available upon arrival in Sweden.
Accommodation and living expenses are to be borne by the candidate. Accommodation in Lund University is arranged by LU and assistance in getting accommodation for the period in KTH/LNU will be provided by KTH/LNU.
Travel cost to/from Sweden, for movement between Lund University and KTH/LNU and insurance premium for the whole period is arranged by and covered by KTH.
Visa applications and visa cost is handled by each candidate and cost coverage can be claimed from KTH upon arrival in Sweden and submission of receipts.
*) Candidates from UMSS should consult the local coordinator for info on scholarship and travel coverage, since the mobility will be part of the local PhD program mobility.
Testimonials
What are some of your favorite occasions / visits so far?
Navin Kumar Jha: "Gender perspective was new concept for me and interacting the social scientists at Lund University was memorable and wonderful occasion of the mobility".
What did you learn during your stay in Sweden?
Geeta Bhatta: "Besides the courses like gender and climate risk management, sustainability assessment and innovation diffusion, I learn the local culture, time value and the excellent working culture".
How would this exchange at KTH help in your PhD studies?
Himanshu Arora: "The program has not only helped me in enhancing my research methodology of the paper but also help me in adding perspective like innovation, SDGs and sustainability indicators in my thesis".
What would you like to say to future exchange students thinking of choosing the SEED exchange program?
Chhabishwar Prasad Patel: "SEED program is a great opportunity to study in Sweden's best universities in different fields. Interacting with professor and student from the all part of the world and getting chance to learn from their experience. Exposure and thinking ability will enhance after joining the exchange program".
SEED Application Process
Students for SEED will be recruited competitively through a common advertisement format from collaborating partner universities in Bolivia, India and Nepal. Each year six students will be recruited, considering a balanced number of students from the participating partner universities along with a gender balance among the participants. The advertisement will be announced in mid-March and the selection decision will be taken within 2 weeks after the application deadline. The results of the selection process will be notified to all applicants. To apply, the student must be enrolled at a Partnering University. The application shall be directed to the local program coordinator for SEED. Pre-screening of such applications are done at the local level and the shortlisted candidates' applications will be forwarded to the executive board for the final selection. The SEED Executive board will evaluate the applications considering the qualifications and experience of the candidates and the mobility conditions.
The eligible candidates will be invited for interviews and the most suitable candidates will be offered to join SEED. The recruitment and employment practice will adhere to the European Charter for Researchers and the Code of Conduct for the Recruitment of Researchers, and follow the local university's requirements.
Selection requirements:
A cover letter including motivation to take part in this SEED Programme (maximum 1 page)
Concept note on a multidisciplinary research to be carried out in Sweden during mobility. Students also need to show how this will contributes to his or her PhD.
A recent CV
Consent letter from the students' PhD supervisor at home university
Proof of PhD admission at home university
Copy of Master Degree certificates.
Timeline:
Date of start of application: 20th January 2023
Last date of submission of application to local coordinator: 28th February 2023
Confirmation of selection of candidate: 8th February 2023
Issuing the invitation letter (for visa formalities) to the candidate: 15th March 2022
Period of stay in Sweden for SEED: 23rd of August 2023 until 21st December 2023 (4 months)
A similar call will be issued for 2024 (calls for 2025 and on are subject to funding decision).
Application form
SEED application form (pdf 296 kB)
About the partners:
Royal Institute of Technology (KTH) – Department of Energy Technology with its division of Energy System is the institutional home for a widely used open source Water Energy Food (WEF) nexus framework called CLEWs. KTH has carried out research in the areas of enhancing energy and resource efficiency with polygeneration technologies for developing countries.

Linnaeus University (LNU) - Dept. of Built Environment and Energy Technology (BET) conducts number of EU and Swedish Research Council (FORMAS) funded research projects in the areas of energy efficiency and climate adaptation in the built environment. LNU research activities cover energy system analysis, identification and implementation of sustainable innovations, behavior and lifestyles, policy analysis, business models, and energy sustainability in developing countries.

Lund University - LTH (Faculty of Engineering) - the Division of Risk Management and Societal Safety at conducts research about how people, organizations and society prepare for, deal with and recover from events that might threaten the society.

Universidad Mayor de San Simón (UMSS), Bolivia has been working in the field of energy since 2008 with a sandwich program on Energy financed by SIDA and a local doctoral program on energy and development.

Kathmandu University (KU-Nepal) has been engaged in education and research in several fields including energy environment and climate change. Several departments under the School of Engineering and School of Science are working in renewable and sustainable energy and sustainable development goals (SDGs) related research.

TERI School of Advanced Studies (TERI SAS), India, aims to build capacity around various themes of sustainable development focused on Energy, Environment, Climate Science, Biotechnology and Sustainability adopting an interdisciplinary approach and incorporating the most contemporary, research-based evidence into the curriculum.

The Sustainable Energy Engineering Doctoral program (SEED) is a 4-years program. The Swedish Research Council VR finances the program.
Contact us:
Sweden
Associate Prof. Anders Malmquist, Overall Program Coordinator - Royal Institute of Technology KTH. Email: Anders Malmquist
Associate Prof. Dilip Khatiwada, Coordinator - Royal Institute of Technology KTH. Email: Dilip Khatiwada
​​​​​Associate Prof. Brijesh Mainali, Coordinator - Linnaeus University-LNU. Email: Brijesh Mainali
Prof Misse Wester Coordinator - Lund University-LTH. Email: Misse Wester
Nepal
Associate Prof Sunil P. Lohani, Coordinator - Kathmandu University-KU. Email: Sunil P. Lohani
India
Associate Prof Naqui Anwer, Coordinator - TERI School of Advanced Studies (TERI SAS). Email: Naqui Anwer
Bolivia
Dr. Evelyn Cardozo Rocabado Coordinator - Universidad Mayor de San Simón (UMSS) Email: Evelyn Cardozo Rocabado