Wuxi Sino-Swedish Eco-City Project (completed)
The project aims at investigating the energy system and innovation process for an upcoming EcoCity in China.
With a growth in urbanization, cities are expected to be at the heart of future innovation in energy efficiency. Wuxi Sino-Swedish EcoCity is a unique project, spanning over an area of 2.4 km 2. The project served to showcase different technological solutions in the area of energy efficiency and sustainability that can be used as a hotbed for innovation development and large-scale implementation.
Project Introduction
The EcoCity is a part of the Taihu New District in Wuxi. The project is sponsored by Swedish Energy Agency's STEM program. During its current phase the project is focused on two areas. Firstly to analyse the energy system of the eco city using a systems thinking approach. The eco city system has been divided into different subsystems and each subsystem will be analysed in order to set quantitative and qualitative targets for the city. As a first step a dynamic systems model is being created and based on it different scenarios will be generated. The second part of the project focuses on innovation diffusion in the context of urban environments. This part will investigate the different stages of innovation for eco cities and various factors associated with it. The project will culminate in final recommendations for the EcoCity on different criterion for successful implementation of EcoCity concept and an analysis of the energy plan.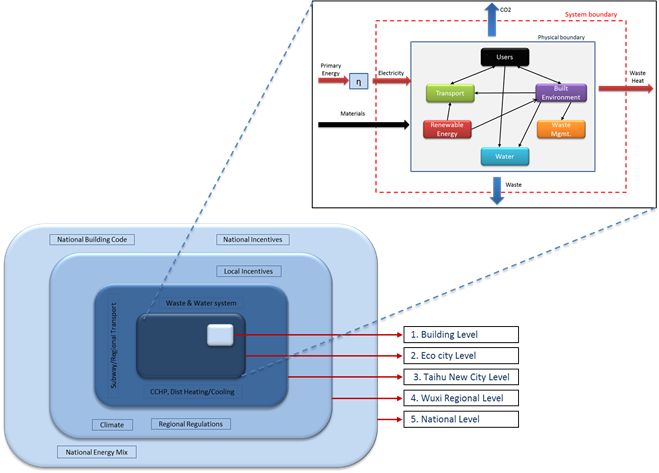 Aims
To develop a systems model taking into consideration all major energy subsystems.
In-depth analysis of the energy system.
Develop an innovation system model for the EcoCity.