Sustainable urban smart grids in Brazil
A consortium of Swedish and Brazilian stakeholders is exploring opportunities for developing sustainable urban smart grids in Brazil. This includes the definition of "solution packages" and "business cases" with demonstration value and potential to be implemented and replicated. The effort builds upon Swedish experiences in the field of smart grids and the concept of SymbioCity.

The development of sustainable and attractive cities entails smarter integration of energy services into multiple urban functions, industrial production and different aspects of people's lives. In this context, it is important to deliver energy services with high standards of safety, reliability and convenience, minimizing negative environmental and health impacts, and maintaining competitive prices. These stringent requirements justify the search for new energy solutions. Smart grids are important systems towards a green economy and the sustainability of cities. Smart grids provide a platform for the development of multiple technological innovations beyond energy provision. In this project, we build upon Swedish experiences in the development of smart-grid concepts and applications for urban areas in Brazil.
The project identifies opportunities for development of urban innovative clean-tech solutions in Brazil. A consortium of Swedish and Brazilian stakeholders is formed to:
Identify potential technological and institutional solutions aimed at the development of smart grids for urban areas in Brazil;
Identify a concrete pilot area that serves for developing an implementation project;
Increase the understanding about conditions for development of smart grids and smart grid-based products and services aimed at the Brazilian market.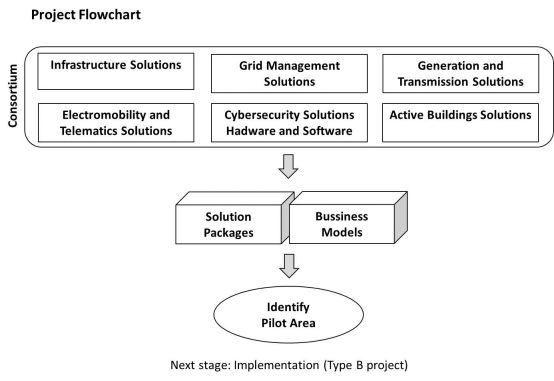 Project period
Dec 2012 - Aug 2013
Contact
edgard.dias.batista@energy.kth.se
+46 8 790 7441
.
Partners
Coordination:
Royal Institute of Technology (KTH) – Division of Energy and Climate Studies.
The unit of Energy and Climate Studies (ECS) has an interdisciplinary character with a strong systems approach, linking issues related to energy technology and policy, climate change and sustainable development. ECS is the project leader. Researchers:
Prof. Semida Silveira, (project leader) KTH-ECS
Edgard Dias Batista, KTH-ECS
Initial Partners:
VOLVO IT
Volvo IT is a global company, and a part of the Volvo Group, one of the world's largest suppliers of commercial transport solutions. With over 40 years of experience in supplying IT solutions to the Volvo Group, Volvo IT has a strong heritage in the automotive industry. In the field of electromobility, VOLVO is a leading player in hybrid technology for heavy-duty vehicles and, in 2011, Volvo Buses delivered 60 hybrid buses to the city of Curitiba in Brazil.

CEMIG
Companhia Energetica de Minas Gerais (Cemig) is a holding company composed of 58 companies and 10 consortia, with assets and businesses in 19 Brazilian states, the Federal District and also in Chile. It operates mainly in the areas of generation and transmission, distribution and sale of electricity, but also the distribution of natural gas in the telecommunications industry and the efficient use of energy. It is a public company with shares listed on the Stock Exchange, Commodities and Futures - vess SA, New York Stock Exchange - NYSE and the Stock Market Latin American - Latibex. CEMIG has been listed in the Dow Jones Sustainability Index for 11 consecutive years.
SAAB
Saab serves the global market with world-leading products, services and solutions from military defence to civil security. With operations on every continent, Saab continuously develops, adapts and improves new technology to meet customers' changing needs.
Stockholm Royal Seaport
Stockholm is transforming an industrial zone into a world class sustainable city district. The development of next-generation smart grid is one of the main activities under the research program "Intelligent Networks in urban Stockholm Royal Seaport".
Lindholmen Science Park
Lindholmen Science Park is an international Science Park where stakeholders from the business, university and public sectors collaborate. The projects carried out within Lindholmen Science Park are characterized by cross-border cooperation, both in terms of competence, organization and between countries. One of the main focus is in the area of Intelligent vehicles and transport systems.
CISB (Swedish-Brazilian Research and Innovation Centre)
The Swedish-Brazilian center of research and innovation (CISB) is an institution that aims to be a bridge between Brazil and Sweden, to identify, develop and support bi-national, high-technology projects towards a sustainable society. CISB aims to foster projects including various stakeholders, as companies, universities and the public sector in Sweden and Brazil.
KTH/EPS
Electric Power Systems (EPS) is a division of the School of Electrical Engineering at KTH. The scientific and technical activities of Electric Power Systems cover development and application of methods for analysis, simulation and control of electric and integrated energy systems. This includes generation, transmission, distribution and use of electric energy in addition to operation and planning of electric power systems. The "Smart Transmission Systems Laboratory" (SmarTS Lab) is a hardware and software research "test bed" or platform being developed at the EPS Division.
KTH/ABE
The division of Urban and Regional Studies (ABE) aims at contributing to the scientific study of the theory and practice of planning, strategy and public policy with particular relevance to sustainable urban development. Our focus is on actor interaction in complex and long-term decision processes using strategic planning theories, scenario methods and decision-support infrastructure systems as tools.
UFMG (Federal University of Minas Gerais)
The Federal University of Minas Gerais (UFMG) is one of the main universities in Brazil. The Laboratory of Environmental Comfort and Energy Efficiency in the Built Environment (LABCON) in UFMG's Architecture School, is one of the 15 accredited laboratories in Brazil to assess the level of energy efficiency of buildings, by the national program for electricity conservation (PROCEL) of the ELETROBRAS.
USP (São Paulo University)
The University of Sao Paulo (USP) is the largest institution dedicated to higher education and research in Brazil. It has outstanding projection around the world, especially in Latin America, and develops a large number of Brazilian masters and doctors who work in higher education and research institutes. Graduate studies at USP, with more than 500 fields of concentration areas (MAs and PhDs), are an international point of reference in Science and Technology.
SWECO
Sweco delivers qualified consulting services with a high knowledge content throughout the client's project chain, from feasibility studies, analyses and strategic planning to engineering, design and project management. Sweco is among the largest players in Europe and a leader in several market segments in the Nordic region and Central and Eastern Europe. In Sweden, SWECO participate in the smart grid project at the city of Falköping.
Greenelizer
Greenelizer is a multidisciplinary research & design studio working with Transition Design to put a sustainable transition in effect. Transition Design can be applied to all levels of society and business; from product design to city farming, architecture and engineering. In this interdisciplinary field Greenelizer functions as a plexus creating synergetic and flexible design solutions. One of its current project is a smart grid visualization service using augmented reality technology, at the project Stockholm Royal Seaport Smart City.
UTFPR (Federal University of Paraná)
Federal University of Technology - Paraná is a public university with campuses in twelve cities of the Brazilian state of Paraná.
PUC-PR (Pontifical Catholic University of Paraná)
The Pontifical Catholic University of Paraná is a private, not-for-profit Catholic university. The main campus is located in Curitiba, the capital city of the State of Paraná, Brazil.
WebRadar
The brazilian company WebRadar provides innovative products aimed at the Telecom, Energy and Transport markets. The company deliver worldwide credited solutions focused in inovation. WebRadar applies the best market practices in telemetry, GIS and big data processing, providing greater business visibility to its customers.
Main funding organizations:
VINNOVA (Sweden)
The Swedish Governmental Agency for Innovation Systems.
FAPEMIG (Brazil)
The governmental Research Foundation of the Minas Gerais State (Fundação de Amparo à Pesquisa do Estado de Minas Gerais).