Waste-to-Biogas in Bolivia
The WABB project is developing a strategy for generation of renewable energy from organic waste in the city of La Paz. This shall contribute to reduce local environmental and health impacts, mitigate greenhouse gas emissions, and promote development in the metropolitan area.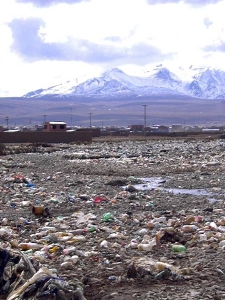 Solid waste management has emerged as one of the major environmental problems of cities all over the world. The consequences of inappropriate waste management are manifold, including environmental hazards such as air pollution and water contamination, negative impacts on public health, and greenhouse gas emissions. Modern and proven waste management practices with collection systems, recycling facilities, sanitary landfills, and waste-to-energy recovery offer opportunities to improve local environmental and health quality, while also adding value to the waste.
La Paz aims at improving the management of urban waste in its jurisdiction. The challenge is to devise and implement sustainable methods to manage solid waste, from the segregation of organic and recyclable materials to the collection and transport of the waste, and final processing for useful applications. As the municipal landfills approach full capacity and new sites for waste disposal turn difficult to obtain, the need to find other waste management options becomes imminent. Fortunately, opportunities exist to reduce environmental and social impacts of waste through modern and well-proven management practices. Anaerobic digestion of solid organic waste can generate biogas for multiple purposes, e.g. cooking, transport, heating or electricity, and bi-products can be used as fertilizer if the waste collection is properly managed. Biogas technologies are competitive proven technologies worth considering for upgrading waste management systems in La Paz.
A strategy for change
The WABB project, or Waste-to-biogas in Bolivia, aims at developing a strategy for generation of renewable energy from organic waste in the city of La Paz in Bolivia. The strategy shall promote and facilitate the implementation of biogas generation from waste, and also serve as reference for replication in other cities of Bolivia.
When developing a strategy, we carefully analyze costs and benefits related to the deployment of biogas from waste in La Paz. This includes technical and economic feasibility studies, calculation of greenhouse gas emissions reductions potential, and evaluation of opportunities and barriers for the deployment of waste-to-biogas in the city. From that, we develop waste management guidelines and policy recommendations. In addition, the project explores how various financial mechanisms can serve as source of funding for waste-to-biogas projects in Bolivia.
The analyses being carried out cover technical and institutional aspects of waste management and biogas conversion technologies, aiming at verifying how waste-to-biogas can be made feasible in the Bolivian context. Swedish know-how and standards are used as reference while developing a unique solution that fits the specific geographic conditions of La Paz. How a waste-to-biogas program in La Paz could be made attractive and eligible for funding within local, national, bi-lateral or international financial mechanisms is a key issue to make biogas a viable proposition in Bolivia. Therefore, the project explores how various financial mechanisms can serve as source of funding for waste-to-biogas projects in Bolivia.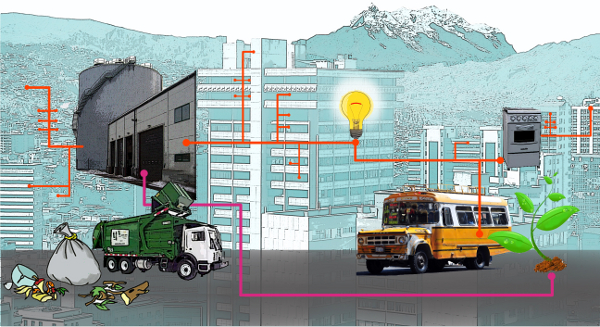 About the project
The WABB project was started in Nov 2011 and initially covered both La Paz and El Alto, twin cities in the Capital province of Murillo, Bolivia. During the first half of 2013, the project had to be re-structured and is now mainly focused on La Paz. The project activities are scheduled to be finalized in May 2014. Since significant information and knowledge was gathered on the city of El Alto during the first phase of the project, the project team will continue to explore the replicability of the waste-to-biogas strategy presently being developed for La Paz, possibly adapting it to the context of El Alto.
The project is led by KTH-Royal Institute of Technology in cooperation with Bolivian and Swedish partners. GAMLP (the municipality of La Paz) is directly involved in the development of the strategy. In Bolivia, the project counts with the expertise of Nur University, a non-profit foundation active in education and training in Bolivia since 1982. At an earlier stage, the project also counted with valuable inputs from the Centre for the Promotion of Sustainable Technologies, CPTS, a Bolivian non-profit organization. Other Swedish partners composing the project team are Mälardalen University and VAFAB (Swedish municipal company). The project brings together various stakeholders through dialogue to make sure that the strategy is anchored on local interests, and waste-to-biogas can bring multiple benefits to the local community.
The project receives funding from the Nordic Climate Facility. Nordic Climate Facility (NCF) is financed by the Nordic Development Fund (NDF) and implemented jointly with the Nordic Environment Finance Corporation (NEFCO).
For more information, contact: semida.silveira@energy.kth.se
Partners
Municipal Autonomous Government of La Paz (GAMLP)
GAMLP (www.lapaz.bo) is a public institution whose mission is to contribute to meet the collective needs of the inhabitants of the municipality. The activities of GAMLP related to environmental issues and waste management are carried through the Direction of Environmental Quality and the Municipal System of Regulation and Supervision.
Alvaro Blondel (government representative)
Ruben Sanchez (government representative)
| | |
| --- | --- |
| Janina Dunn ( | Local government partner coordinator) |
Nur University
Nur University is a non-profit foundation active in education and training in Bolivia since 1982. Nur University has consolidated a program for Municipal Bodies which has run in collaboration with the Bolivian Ministry of Decentralization. Its education department has continuously carried out training oriented to build capacities in municipal bodies in different subjects including environmental management, water and sanitation and various tailor made training on climate change adaptation and disaster risk reduction for different clients. The Department of Development Projects (DIPRODES) is active in climate change policy research since 2004 and has collaborated with different international research organizations. Since 2010, Nur University is research partner of the international partnership AdaptationWatch oriented to carry out research, training and advocacy around climate change adaptation processes and the implementation of an international climate funding mechanism.
Javier Gonzales Iwanciw, senior researcher and lecturer
Fabiana Mendez Raya, senior researcher
Mälardalen University
The University MDU (www.mdh.se) has a technical profile and experience in the area of biogas technologies. MDU conducts research at the large scale biogas plant Växtkraft that supplies the city with vehicle fuel. The university has hands on experience from large production facilities and also conducts basic research in the field.
| | |
| --- | --- |
| Erik Dahlquist | Professor, senior researcher |
| Eva Thorin | Senior researcher |
| Jesper Olsson | Researcher |
VAFAB Miljö
www.vafabmiljo.se
VAFAB works with sustainable and environmentally sound handling of waste, and is owned by the municipalities in Västmanland County together with the municipalities Heby and Enköping. The population of the region is about 300,000, and there are more than 10 000 businesses that generate waste. The responsibility of VAFAB consists of dealing with all the waste in an environmentally correct manner. VAFAB contributes with hands on experience and business approach to waste management.
| | |
| --- | --- |
| Eva Myrin | Waste management discussion coordinator |
| Per-Erik Persson | Waste management discussion partner |
| Sandra Lindblom | Waste management officer |
KTH Royal Institute of Technology
The unit of Energy and Climate Studies (www.ecs.kth.se) has an interdisciplinary character with a strong systems approach, linking issues related to energy technology and policy, climate change and sustainable development. ECS is leading this project.
| | |
| --- | --- |
| Semida Silveira | Project Manager / Policy Expert |
| Dilip Khatiwada | Expert / Researcher |
| | |
Nordic Climate Facility
www.ndf.fi
www.nefco.org
Nordic Climate Facility (NCF) is financed by the Nordic Development Fund (NDF) and implemented jointly with the Nordic Environment Finance Corporation (NEFCO). NCF is the main financer of the project Urban and Industrial Waste to Energy- Promoting Sustainable Development in Bolivia using biogas.
Activities
Workshops in Bolivia and Sweden, stakeholder consultations, expert meetings and study tours to Sweden complement the scientific investigation are carried out to meet the project objectives.
The first phase of the projects includes investigation of organic residues through examination of the waste management system. Barriers to implementation are studied in dialogue with the stakeholders. Current waste management practices are also examined and compared to best practices in other countries. Technical and economic feasibility studies are carried out together by the Swedish and Bolivian partners to make use of the Swedish experience but also to consider the specific demands the Bolivian context places.
Later phases of the project include social, institutional and policy analysis. We want to know who is affected by the project, which institutions can support it and what policies are needed. Stakeholder dialogues form an essential component for the social analysis. A comparison with policy instruments in other countries will also be made resulting concrete policy recommendations for the municipalities of La Paz and El Alto.
All findings will give input to the final product, the strategy. The strategy will give concrete recommendations for sustainable development in the region by promoting the use of urban and industrial waste to energy purposes. The strategy will be handed over to the relevant authorities. For this reason the Municipality of La Paz has been invited at an early stage of the project. The Municipality is a final and active beneficiary of the project. Their participation is crucial for the long term sustainability of the project.
Reports
Project summary of Waste-to-Biogas in Bolivia is an introduction to the project and the principles of transforming waste-to-biogas.
The final report " Conditions for transforming waste to energy in La Paz and El Alto" analyzes the conditions of waste-to-biogas in the region. An executive summary of the report can be downloaded